After two exceptional years, the Finnish contemporary music festival Time of Music offered the latest works of contemporary music on its own terms.
The festival's 40th anniversary program opened with the world premiere of Mark Applebaum's longest work to date.The one hour-long Venture Capital Punishment was performed by New York-based Talea Ensemble. Evoking both excitement and positive confusion, the concert was attended by several Finnish and international influencers in the field of art and cultural industry, including the Finnish Minister of Culture Petri Honkonen.
Among the festival's pinnacles were Julius Eastman's minimalistic classic Femenine and the experimental solo recital by the Oslo-based percussionist Jennifer Torrence, which received an overwhelmingly positive reception at the newly renovated Viitasaari Church. Philip Venables's bold, brilliant, and unabashingly political Illusions proved also to be one of the festival favourites.
The works of the visiting composers provided both deeply emotional moments and irresistible joy and excitement. The accordionist Andreas Borregaard's interpretation of Philip Venables' storytelling masterpiece My favourite piece is the Goldberg Variations had a deep and intimate impact on the audience with its personal narrative. The intellectual, absurdist, and hauntingly beautiful works by the composer Mauro Lanza, who also taught a composition course on the festival, mesmerized the audience with the combination of the old and new electronics and traditional orchestral instruments.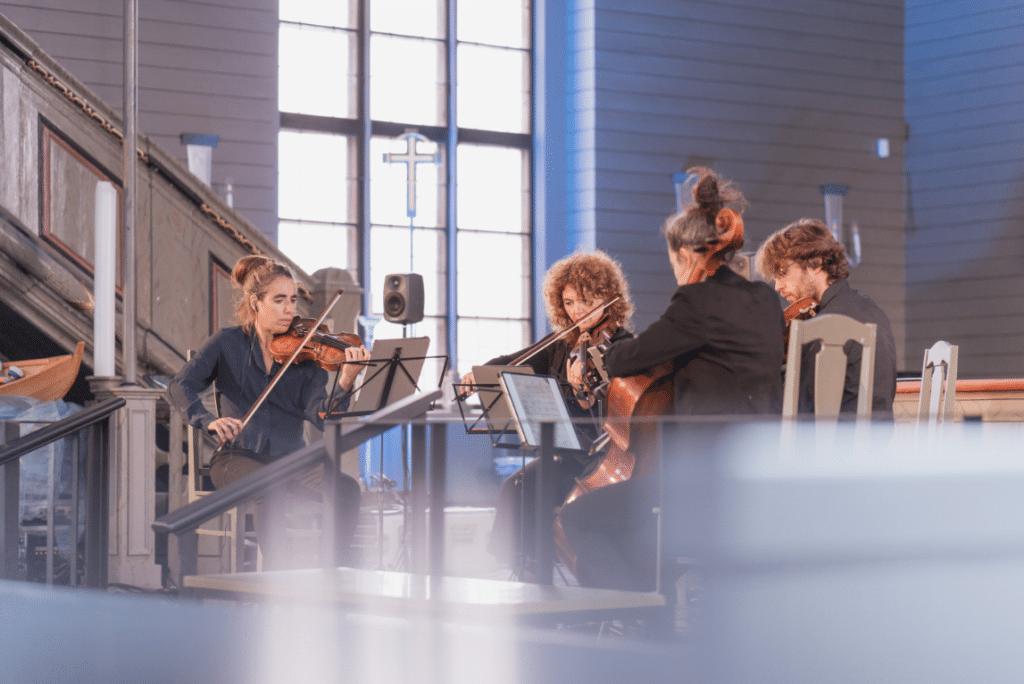 Several premieres were heard by both Finnish and international artists. Works by Minna Leinonen, James A.-McEwan, and Mioko Yokoyama can be heard on The Finnish Broadcasting Company's special program focusing on this year's Time of Music.

The 40th anniversary exhibion at the Viitasaari Library was also well-received. The discussions by previous festival workers revealed less-known and highly interesting details on the festival's history, and the milk jug John Cage played in 1983 proved to be literally a hit, as the visitors were allowed to play it themselves in any way they wanted. Claudia Molitor's installation Listen to my World continues its journey from Viitasaari's Time of Music to the Transit Festival in Belgium.
The current covid situation provided its own challenges, as some of the musicians had to be replaced with short notice just before and also during the festival. With quick and successful replacements, nearly all of the concerts were organized without changes in the program, and in only one of the concerts some of the works had to be cancelled.
In total, the festival had nearly 2000 visitors at 18 concerts and 9 seminars and festival discussions. 144 artists and musicians visited the festival, of which 107 were musicians, teachers, composers, and administrative representatives of different musical organisations, and 37 of them were course students from different countries.
Next year's Time of Music will be held the 4th–10th of July 2023, and one of its themes is John Cage's legendary visit in Viitasaari 40 years ago.
FURTHER INFORMATION
Executive Director Kristiina Penttinen, kristiina.penttinen@musiikinaika.org, +358 40 564 5501
Artistic Director Johan Tallgren, johan.tallgren@musiikinaika.org, +358 40 742 6345